iMac Discounts and Stock Shortages at Third-Party Retailers Hint at Approaching Haswell Update
Major third-party Mac retailers such as B&H and Amazon have begun offering discounts on various iMac configurations in recent days as Apple may be beginning to slow shipments of the computer in advance of a refresh featuring Intel's Haswell processors, reports AppleInsider. The company seems to be slowing the flow of iMac units coming into its various sales channels as the next-generation iMac will likely be announced later in the fall after its September iPhone media event to allow Apple, its customers, and the media to focus on its flagship mobile device.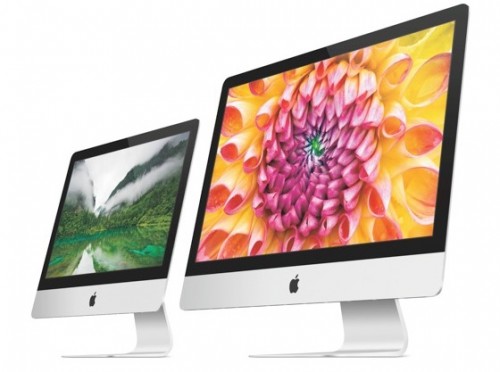 The discounts join sales efforts initiated earlier this month by Best Buy, Amazon, and MacMall — all of which are similarly offering the four standard iMac retail configurations at discounts between $100 and $150. Given the new inventory management measures Apple adopted after January's MacBook Pro surplus scare, the discounts are likely the start of a multi-week effort to run its iMac channel fairly bare.

Previous reports indicated that the iMac would be updated to include Haswell processors in June or July as shipments sank, but an update to the computer was not announced at or soon after Apple's annual Worldwide Developer Conference.

Earlier this year, a new Broadcom Wi-Fi/Bluetooth card supporting the latest 802.11ac Wi-Fi standard surfaced, with the card appearing nearly identical in size and shape to the custom card currently used in the iMac. The inclusion of 802.11ac support on the next-generation iMac is all but certain as the standard has already made its way into Apple's latest MacBook Air models and new AirPort Extreme and Time Capsule base stations.

Yesterday, a report surfaced that refreshed MacBook Pro models with Haswell chips would be coming in September, backed by evidence that Apple vendors may be trying to run down existing MacBook Pro stock. Data from U.S. research firm NPD released last month also indicated that U.S. Mac sales were down in June compared to the previous June, despite the introduction of the new MacBook Airs, with the lack of a refreshed MacBook Pro lineup cited as a primary contributing cause.


Recent Mac and iOS Blog Stories
• 'Sky Gamblers: Storm Raiders' Named App of the Week, Available for Free
• BlackBerry Messenger User Guides Posted, iOS Launch Coming Soon?
• Refreshed MacBook Pros with Haswell Chips Coming in September?
• iOS Gameplay Capture Platform Kamcord Secures Over $1 Million in Funding, Announces Community Features
• Apple Preparing Employees for OS X 10.8.5 Launch with New Prerelease Build 12F35
• 'Asphalt 8: Airborne' Launches for iOS with New Physics Engine, More Cars
• Apple Looking to Patent iPhone Status Sharing System
• Facebook Updates Pages Manager for iOS with Multiple Photo Uploads, Improved Insights


MacRumors: Mac News and Rumors – Front Page