'Apple Store' iOS App Update Coming Tuesday with Free iTunes Store, App Store, and iBookstore Deals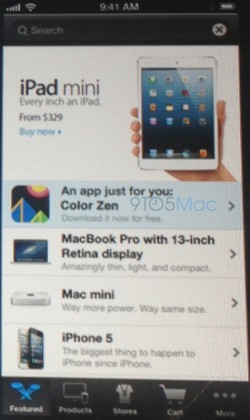 9to5Mac reports that Apple will be releasing an updated version of its Apple Store app for iOS devices on Tuesday, bringing a minor redesign and new tie-ins with iTunes Store, App Store, and iBookstore content. Through the updated app, Apple will offer special deals, making paid content free of charge for users of the app.

As you can see in the photo of the upcoming app update (to the right), the app will promote content from the three Apple content stores. This content normally costs money, but will be available free for a limited time via this new app.

Apple, internally, positions this as a way to boost content sales as this new feature is designed to raise awareness about Apps, iTunes, and iBooks content.
The report indicates that the updated app will be part of Apple's effort to focus on iPhone sales in its retail stores, with customers being encouraged to install the app on their new iPhones, exposing to Apple's content offerings.

In the example, shown in the screenshot, Apple is offering free downloads of Color Zen, a new puzzle game normally priced at $0.99.

Apple's focus on iPhone sales is designed to boost the proportion of devices sold in its retail stores from the current level of 20%, although analysts have noted that Apple may have a difficult time achieving that goal given its network of just 250 stores in the United States compared to over 10,000 third-party sales locations such as carrier stores, Best Buy, and RadioShack. According to one U.S. study, 90% of first-time iPhone customers purchase their devices from somewhere other than an Apple retail store.

The company has already begun taking some steps toward enhancing direct iPhone sales, including the device in its annual Back to School program for the first time. Under the program, eligible education customers can receive a $50 gift card good in any of Apple's content stores with the purchase of an iPhone.

Apple is also partnering with recycling firm BrightStar to offer an iPhone trade-in program at its U.S. retail stores. That program will offer instant trade-in credit to customers, hopefully driving upgrade rates as customers will be able to immediately see the net cost of upgrading and take advantage of a simple means for turning in their used devices.


Recent Mac and iOS Blog Stories
• Apple's Developer Center Experiences Daylong Outage
• Rovio Expands 'Accounts' Cross-Device Game Progress Syncing to Original 'Angry Birds'
• Evernote Updates iOS App With Shortcuts, Related Notes and Skitch Support
• Official 'Firefly' Game Coming to iOS in 2014
• Best Buy Discounts 13-inch MacBook Pros by $200 for Back-to-School Promotion
• New York Times Developing Gesture-Based News App for Leap Motion
• Verizon Officially Announces 'Edge' Frequent Device Upgrade Program
• Apple Reportedly Talking to LG About 55-65 Inch Ultra HD TV Panels


MacRumors: Mac News and Rumors – Front Page